Stapling its name as the top brand when it comes to pickup trucks, Ford is far from being perfect. In fact, it has its fair share of problems with CarPlay that's not working.
So if you're looking for a quick solution on how to fix your Ford's CarPlay, then here are a few things you can do on your own.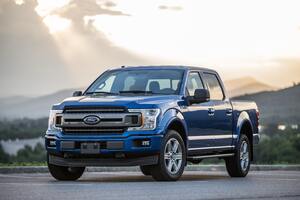 Why CarPlay is not working on your Ford
Troubleshooting can be quite nerve-racking. Especially if you have no knowledge or idea what to do at all.
So before you go the extra mile, we recommend checking these basic things listed below.
iPhone Model and Operating System
To avoid compatibility issues, your iPhone should be running iOS 7.1 or later versions.
Though most users would typically own the latest or later model of an iPhone, it's best to keep in mind that the bare minimum is an iPhone 5.
Car Model
Most of Ford's 2017 models were released with CarPlay as a standard feature. Even so, CarPlay's features generally vary depending on the car's year and model. If you do not know the model and year of your Ford vehicle and if it supports CarPlay, best to consult with your dealer or the user manual.
Supported Region
Similar to other applications, CarPlay is only available to select regions. Other than the United States, there are over 30 countries where CarPlay is available and you can check the list on Apple's official site.
Ford CarPlay is not working (Cause & Solution)
If you don't fall for any of the cases above, then technically you should be able to use your CarPlay. Else, there could be a problem between your Ford's infotainment system and your iPhone's connection, we recommend resetting your infotainment back to default and then setting up your CarPlay again.
Can you do CarPlay wirelessly?
If your car supports SYNC 4, then you can use Wireless CarPlay. To connect your iPhone, follow these simple steps:
Enable your iPhone's Wi-Fi, Bluetooth, and Siri
On your infotainment display (SYNC), Tap "Phone"
Select "Add Phone"
On your iPhone's "Settings", Tap "Bluetooth"
In the discovery list, select the name of your car
On your SYNC screen, confirm if PIN is similar to the pop-up display on your iPhone
On your iPhone, Tap "Pair"
Tap "Use CarPlay" on your iPhone
Tap "Enable" on your SYNC screen
Wait for Apple CarPlay to launch on your SYNC screen
If you're having difficulties pairing and your iPhone cannot be detected, this could be due to restrictions. In this case, enabling CarPlay on your iPhone should help you address this concern. Just follow the steps below to remove the restriction:
On your iPhone's "Settings"
Go to "Screen Time"
In "Content & Privacy Restrictions", Tap "Allowed Apps"
If CarPlay is disabled, then toggle the button to remove restriction.
Unable to connect to Wireless CarPlay
If you're able to pair your iPhone with CarPlay and SYNC, but you're still unable to connect, then we recommend resetting your car's system. To do a soft reset on your car, follow these steps:
Press and hold the Power Button located in the center of the volume knob and the Seek Right button simultaneously for 10 seconds.
Similarly, press and hold both the Volume Down and Seek Right buttons on the steering wheel for 10 seconds.
Wait to finish
If the reset doesn't resolve the issue, then the problem could be:
Your OS or Software requires updating to the latest version. However, if everything is already updated when these problems occur, then it's best to call Apple Support or the vehicle manufacturer.
The infotainment system of your Ford vehicle cannot establish a wireless connection with your iPhone. In this situation, your only alternative is to use Wired CarPlay.
Can you do wired CarPlay?
Yes, wired Apple CarPlay is a standard feature for Ford models with at least SYNC 3. So if you're having problems with wireless CarPlay in your SYNC 4, then you can spare yourself from the worries of not having CarPlay by just using a USB cable.
How to set up wired CarPlay?
Setting wired CarPlay is pretty much a "plug and play". So to connect your iPhone follow these simple steps:
With "Siri" turned on in your iPhone, plug in via a USB cable
Select "Continue" in the pop-up menu on your SYNC screen
If 911 Assist is turned off, tap "Enable" in the pop-up menu. Then the system will ask you to choose if you'll,
Use the "Toggle to turn on" 911 Assists, or
Skip this step
3. Wait for Apple CarPlay to launch on your SYNC screen
Unable to connect to Wired CarPlay
Similarly, you can still encounter connection difficulties even when using this configuration. Commonly, this could be due to iOS security features.
For instance, if your iPhone has been locked for at least an hour, the security mechanism will get triggered, and the USB function will then be restricted. Unlocking your phone will resolve this, however, this may happen again.
To prevent this from reoccurring, we recommend disabling this feature by following these steps:
On your iPhone's "Settings"
Tap "Face ID & Passcode"
Under the "Allow Access When Locked" toggle "USB Accessories" on to disable USB Restriction
Other issues could be due to defective cables or faulty ports. Of course, even if the possible causes are narrowed down to a few, it'll remain challenging to apply the fixes until we do troubleshooting. Still, these issues are quite generic and the solutions work for any brand.
Defective USB Cable
Defective USB cables generally may cause connectivity or charging issues. So if you're having difficulties connecting, we recommend trying a different one. It's important to note that your Lightning-to-USB cable should be Apple-certified.
Unsupported or Faulty Ports
Cars that support CarPlay usually have dedicated ports on their head unit. In case the port where your iPhone is plugged-in is not working, then try using other ports. Typically, there's a CarPlay or Smartphone logo beside these ports that support CarPlay. Otherwise, you'll have to try each port.
Should all of the fixes provided in this article fail to provide the results we expect, then the issue could be something a certified technician should be addressing. In this case, it's best to bring your Ford vehicle to your trusted dealer for an in-depth checkup.
People Also Asked
Looking for the right solution/s to something that's not working for no apparent reason is definitely stressful. However, staying composed and detail-oriented is still the best strategy to handle such unfavorable instances. In this case, here are some Ford CarPlay related questions that people also ask:
What Ford has CarPlay?
Aside from the newer models equipped with SYNC 4/4A, 2017 models with SYNC 3 also support CarPlay. In fact, there are also 2016 models with SYNC 3, however, the software version should at least be 2.0.
Does Ford have Wireless CarPlay?
Yes, Ford vehicles equipped with SYNC 4 support Wireless CarPlay. For SYNC 3, you will need a wireless Apple CarPlay adapter. Alternatively, replacing your car's head unit with an aftermarket head unit that supports wireless CarPlay will also work.
Wireless Apple CarPlay Adapter – Using this adapter allows the use of Wireless CarPlay in all Ford SYNC 3 systems. In fact, compared to an aftermarket head unit, this is more economical as these are cheap and require less modifications. Though you should also note that your Ford CarPlay is not supposed to function in this configuration, so there's a chance to encounter errors like delays. Moreover, these adapters are not manufactured by Apple, so it's best to revisit the pros and cons of using them.
Aftermarket head unit – Those who prefer Wireless CarPlay are increasingly turning to aftermarket head units. Though it may be a viable option for users, they should also be aware that this version of the head unit is neither manufactured nor offered by Ford. Furthermore, relative to adapters, this option is relatively complex and may require you to spend more than when you buy an adapter.
How do I update my Ford SYNC to CarPlay?
Generally, you can update your software by visiting owner.ford.com to download and install it with a USB drive, or just by visiting your dealer. But if you have a Wi-Fi-enabled car, you can configure it to receive updates automatically when connected to a Wi-Fi network.
Reference: