Morphy Richards is a UK-based kitchen and home appliance manufacturer that has revolutionized home appliances for 85 years. They are home to high-quality and reliable products for affordable prices.
We cannot deny that we are bound to encounter some problems with our everyday use of steam iron.
[ez-toc]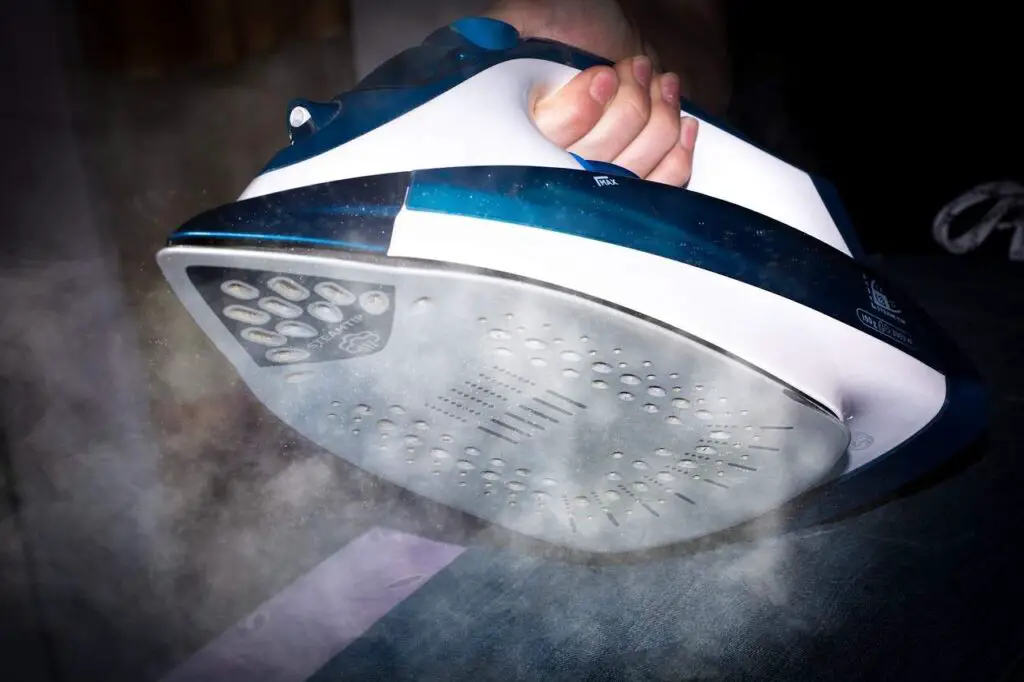 Morphy Richards Steam Iron Common Problem
Listed below are some common Morphy Richards steam iron problems and how to fix them:
1.  The Steam Iron Leaking Clear or Dirty Water
Morphy Richards Steam iron uses high pressure to make water vapor that will produce steam. The steam from the iron will remove the creases from the clothes.
Because of the function of a steam iron, there are instances that it may end up leaking water. Stated below are the possible causes and solutions for this problem.
The thermostat is not correctly set to the right temperature
The steam iron has a soleplate where the steam comes out. If it is the case that the temperature is set too low, the iron will fail to produce steam; thus it will spit out water instead. 
The water will not heat enough and won't be able to be converted into steam.
To fix this issue, set the temperature correctly at the right temperature. There are models of steam iron that have the 'anti-droplet' and 'off-steam" function to avoid having droplets of water on your clothes while ironing.
If this method does not work, the problem may be a broken thermostat that needs to be replaced.
Limescale is a white chalk-like substance that often builds up on water-operated machinery over time.
The soleplate can get clogged with limescale resulting in runny water and burnt limescale substance running out of the holes while ironing clothes.
This issue can be fixed by rubbing vinegar using a small cotton bud or something similar to the soleplate. Remember only to soak the soleplate and not the whole iron.
Limescale in the heating device for the hot water
Repeated uses over time may cause the heating device to clog up with limescale causing the iron to overheat.
This heating device is responsible for heating the water and producing heat. If this happens, the steam iron will cause water to leak.
To fix this problem, regularly descale your iron. If the issue is not resolved, the heating device is defective and requires replacement.
The solenoid valve is an electric valve that controls the flow of water or steam to the heating system. If it is defective, it will cause the water to pass through instead of stopping its flow continuously.
To fix this issue, you may consider changing the solenoid valve.
Defective control thermostat
The control thermostat is responsible for controlling the temperature of the steam iron to produce steam from water. If the thermostat is defective, it won't reach the temperature you set that will cause the water to leak instead of turning into steam.
To check if the thermostat is defective, try setting the temperature to the highest setting. If the water does not turn into steam, the thermostat needs to be replaced.
Damaged or cracked water tank
There is a possibility that the cause of water leakage is a crack or hole from a damaged water tank. Check the water tank for any crack thoroughly and replace it if damaged.
Another reason for water leakage is the tank being too full, or the water inside surpassed the maximum water level set for the iron. If it is the case, you need to empty some water to avoid water leaks.
2. The Iron Stains the Clothes with Marks
After quite some time, irons leave stains or marks on the fabric. This can be a problem if it is hard to remove or it stains permanently. Below are reasons why your Morphy Richards steam iron leaves stain on your clothes and how to fix it.
Repeated use for an extended period, the soleplate of the steam iron accumulates dirt that may stain the fabric during ironing. The dirt may also snag the fabric, damage it and make the iron unable to glide smoothly on the materials. Regular cleaning of the soleplate is a must to prevent dirt accumulation.
To fix this issue, clean the soleplate of the iron using soapy water with a sponge. Another alternative is to use vinegar water with salt. Make sure to power off the iron when cleaning.
Limescale build-up produces lime deposits that cause yellow stain of the clothes when ironing. These yellow streaks are visible and particularly stain white fabrics.
To fix this issue, use demineralized water when ironing. Using vinegar or a particular iron descaler is advisable when descaling the iron.
Over-starched clothes are stiff. These types of clothes are prone to having burn marks during ironing. Soaking the burnt area with lukewarm vinegar water should remove the stain.
3. Faulty Steam Generator Iron
The steam iron is a convenient solution designed to flatten out your heavily creased clothes with its steam and hot iron soleplate. With the test of time, your Morphy Richards steam iron may stop working. Below are the causes and solutions to get your steam iron function again.
Check if the steam iron is plugged correctly into the power source and the power supply is getting to the iron.
Try plugging another appliance into the power socket and see if it is working fine. If this is not the problem, try checking your power cord and see if there are damages. If it is faulty, consider changing it immediately.
There are models of steam iron that come with a stop and start power button. There may be factory defects, or the power buttons are broken through time.
Try checking it with a multimeter to fix this issue, but this will require you to disassemble your steam iron completely. You can also try checking with a professional.
Morphy Richards Steam Iron Pros and Cons
Steam Irons are innovative appliances that will make clothes pleasant and professional-looking. It effectively unwrinkles your clothes more than the typical dry irons. Customers consider quality, price, power consumption, comfortability, warranty, and customer reviews when buying steam irons.
There are many brands and models with different functions, but what are the pros and cons of using products from Morphy Richards?
Pros:
For decades of offering good services and durable products by Morphy Richards, they can surely provide products that will reach their customers' expectations.
Morphy Richards offers a variety of steam irons with distinctive specifications and price ranges. Regardless of different models, these high-quality steam irons satisfy their role in the household.
Were you looking for a luxurious steam iron? Morphy Richards 303131 Turbosteam Pro Ionic Steam Iron is good for you. Its pearl ceramic soleplate makes gliding to fabrics quickly, and it has Tri-Zone technology for effective wrinkle removal. They have a large water tank and do not leave heat marks on all your favorite clothes.
Want to have a steam generator but do not have enough space? Morphy Richards Saturn Steam Pressurised Iron 305000 is a good alternative. It is pretty heavier than average steam irons, yet it has a lot of functions that may help you do ironing safely and efficiently.
Cons:
A few of Morphy Richards's downside is their short span of warranty. They provide a one-year warranty and an additional two years if the iron was registered within 28 days of purchase.
Some steam irons are quite bulkier and heavier than average steam irons in the market. In addition, some models lack a plastic clip to fasten the cord.
How Long Should a Morphy Richards Steam Iron Last?
On average, Morphy Richards Steam Iron lasts for ten (10) years, yet it still differs upon how the user maintains and frequently uses their steam irons. A three-year guarantee might be pretty short for a product, but they are still quite confident about their product's durability.
Morphy Richard manufactures high-quality and tested products for their customers. They tested its soleplate for tens of thousands of jeans and drop-tested thousands of times to show its durability and ensure it would last for years.
Is it Worth Repairing a Morphy Richards Iron?
You can quickly fix it yourself without going to the store for minor issues such as clogged vents. If the steam iron becomes faulty under warranty, you can still give it back to the manufacturer. But remember, some repair fees do not come for free.
On the other hand, bear in mind that the product will sooner have more defects, making it unworthy to repair again. Some situations make the repair fees enough to buy a new steam iron without inconvenience at all. As they offer more innovative, economic, and environmentally-friendly steam irons, it allows you to buy again for good quality and price.
Morphy Richards Iron Alternative
If you look for Morphy Richards iron alternative, Philips Steam Irons is quite comparable with Morphy Richards. These two are both leading brands in manufacturing home appliances.,
They both have durable soleplates that give you the best ironing experience. They have Tri-Zone technology that effectively unwrinkles different kinds of fabrics. They also have powerful steam output, a stylish and comfortable design, and drip-drop systems that ensure the safety of users by auto-shut-off function.
Their prices differ with distinct specifications, but these brands were reputable and commendable by household users and experts.