When CarPlay was initially made available for car manufacturers, Mercedes-Benz was one of the first brands to support the integration of the iOS system. Owners of older models, however, were offered retrofitting through an aftermarket solution.
With this in mind, connectivity problems became a common thing. So if your Mercedes CarPlay is not working, here's some easy fixes to stop it from ruining your day.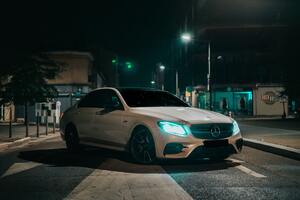 Caused of Mercedes CarPlay Not Working
Troubleshooting the cause/s is the primary step we need to take as there are different factors causing CarPlay to stop working. I know you're itching to have everything fixed immediately, but before you go to great lengths, we recommend checking these questions listed below:
Is it compatible with your device?
While CarPlay works on iPhone 5 or later models, compatibility issues are the result of outdated operating systems. With this in mind, keeping an updated iOS will help avoid such concerns.
Still, it's important to know that the minimum requirement is iOS 7.1.
Is it supported by your car?
Mercedes-Benz has a wide variety of vehicles that support CarPlay. However, the features still vary depending on the Make Year, Model and Trim of your car.
If you're unsure if your Mercedes supports carplay, check your car's user manual or call your dealer.
Is it available in your region?
CarPlay is available in over 30 countries including the United States, United Kingdom, Finland, Canada, Taiwan and Hong Kong. To know more about which countries CarPlay is available, visit Apple's website.
If you meet the criteria we mentioned above, then you should be good to go. Otherwise, underlying problems with connectivity can be caused by numerous factors.
Such as software related problems to more serious hardware ones. So to narrow it down, the best thing to do is to perform a troubleshooting procedure.
Does my Mercedes support Wireless CarPlay?
Mercedes-Benz started integrating wireless CarPlay to its cars in 2019. As a matter of fact, it is the second brand to do this since the wireless configuration was launched in 2015.
However, it's important to keep in mind that this is only available to models equipped with an MBUX infotainment system.
How do I connect my Mercedes wireless to CarPlay?
If CarPlay is restricted, then you will encounter difficulties when pairing your iPhone. To avoid such issues, we recommend removing the restrictions by enabling CarPlay. To do so, just follow these steps:
Go to your iPhones "Settings"
Go to "Screen Time"
Tap "Allowed Apps" in "Content & Privacy Restrictions"
Enable CarPlay by turning the button on
Your car's MBUX infotainment system should now be able to detect your iPhone. The next thing you should do is setup your Wireless CarPlay by following these steps:
Turn on Bluetooth, Wi-Fi, and Siri. Also, make sure your iPhone is discoverable
On your infotainment display, click "Phone"
Select "Connect Device"
Select the name of your iPhone
On your iPhone, accept the passcode to connect
Click "allow" to prompt asking to sync your contacts
On your infotainment display, click "Accept and Start Apple CarPlay"
Wait for Apple CarPlay to launch
If you're now able to use it, then there are no further concerns. Otherwise, your car's system could be needing a soft reset. Don't worry, doing this does not clear your data in the MBUX system. To do a soft reset just follow these steps:
Press and Hold the "Tel" and "Start" buttons simultaneously until the screen turns black
Wait for about 30 seconds until the system finish rebooting
Doing this should be enough to address the issue. Else, consider these things below:
Perform a Hard Reset. Unlike the soft reset, doing this restores everything to factory settings, thus clearing all your data in the MBUX infotainment system. To do a hard reset, just follow these steps:
On your infotainment display, go to "Settings"
Go to "System"
Select "Reset"
Click "Yes" to confirm
Wait until finish resetting
Call Apple Support or your vehicle manufacturer. Assuming you're already using the latest operating system and/or software, the problem could be a bug from a new update, and asking them for assistance is your best option.
Use Wired CarPlay. Your iPhone and the MBUX infotainment system of your car might be having difficulties in establishing a wireless connection. Nonetheless, with just a USB cable, you can always spare yourself the worry of suddenly not having CarPlay when hitting the road.
Does my Mercedes support Wired CarPlay?
Yes, it is a standard feature of Mercedes cars since 2016. Thus, regardless if your car model is equipped with COMAND or MBUX infotainment system, you can use Wired CarPlay.
Unable to connect to Wired CarPlay
Of course, using CarPlay wired still has its fair share of troubles. However, if your CarPlay won't start working or at least, suddenly stops working while plugged-in and your iPhone is locked, then it's not a technical problem but a security feature.
In this case, iOS restricts the USB function if your iPhone has been locked for an hour. Though you can always address this by just unlocking your phone, we recommend disabling this feature to avoid similar concerns in the future.
In your iPhone's "Settings"
Tap "Face ID & Passcode"
Toggle "USB Accessories" on to disable the restriction
If after doing this you can't still connect to your infotainment system, then this could be due to faulty hardware. In this case, you could be using a defective cable or a broken port.
Defective USB cable
In general, connectivity and charging issues are the result of damaged cables, and the only way to verify this is by using a different one. Note that when using wired CarPlay, it's required to use an Apple-certified USB cable. So if you don't have one, we recommend getting one.
Broken USB Port
Similarly, the way to check this is by using a different port. Ports that support CarPlay usually have a smartphone integration symbol and are located in the center console. This may be different for each car, so it's best to check your user manual. In case you don't have the manual with you, then the obvious choice is to try all ports one-by-one.
After all these troubleshooting steps, your CarPlay should now be working again. If not, the problem could be something a certified technician should be looking at. In this case, we recommend bringing your Mercedes to your car dealer to have it totally checked.
People Also Asked
Technological innovations don't seem to be slowing down. If these changes have brought anything, it's questions. And people keep on learning through the internet! So here are some interesting Mercedes CarPlay-related questions people also ask on the web:
What year did CarPlay start in Mercedes?
Mercedes supported iOS CarPlay system integration since 2014 on select vehicles, initially, only for C-Class (W205). Today, almost every vehicle supports Apple's CarPlay system.
Is there a monthly charge for Mercedes-Benz Apple CarPlay?
There's no monthly charge when using this feature though it's not totally cost-free since messages and data rates may apply when using certain functions.
How do I get Apple CarPlay on an old Mercedes?
Technically, Wireless CarPlay is only available to Mercedes equipped with the MBUX infotainment system. So if you have a COMAND infotainment system, then you only have two options:
Replace the head unit with an aftermarket version – This is possible though can be quite challenging as mercedes' factory head unit's shape and position are unusual, especially 2016 models and onwards.
Keep in mind that these aftermarket versions are not manufactured by Mercedes-Benz, and may only be applicable to select models.
Use a Wireless adapter – Note that using this adapter does not necessarily add CarPlay in your car, it will only convert wired to wireless. With this in mind, this is your cheapest option to never deal with wires again.
However, be reminded that this is only an alternative and your factory-installed Apple CarPlay is not meant to function this way.
Aside from the fact that this adapter is neither manufactured by Mercedes-Benz nor Apple, the longevity and functionality may or may not meet your expectations.
How can I add CarPlay to the MBUX infotainment system?
Adding your CarPlay to MBUX or even in COMAND is pretty much a "Plug and Play".
You just have to plug-in your iPhone using an Apple-certified USB cable to a port with a smartphone integration symbol. Just tap "Accept & Start" to connect and start using CarPlay.
References:
You May Also Be Interested In Reading